This is it. We are finally here where it all matters. This is where I highlight the best technical achievements and performances of the year. This is where I get a chance to recognize all of my favorite films that I saw this past year. As always, I also have a lifetime achievement film award at the end of the post, so don't forget about that one. For the full list of nominees, go here.
---
Best Movie Poster
Parasite — The Scholar's Rock and the Reflection (LINK)
In the end, it came down to two posters. Either I would go with the poster that actually makes me feel uneasy whenever I see it (i.e. the US-poster), or I would go with the poster that I thought was the most pleasing to look at but which also contains so many features that make me think about the film (i.e. the Parasite-poster). In the end, I went with Parasite. I would hang this poster on my wall if I could. It includes the beautiful Scholar's Rock, what looks like a peach-tree, and a reflection in the water that makes me think about the film's themes.
---
Best Movie Trailer
Knives Out — Official Trailer #1 (LINK)
This was, honestly, a really difficult category for me this year. In the end, I went with the trailer that gets me the most excited to watch or rewatch the film. Knives Out was fantastic and this trailer is such a great tease of what is to come if you haven't seen it. I love how the music, the scenes, and the title card animations work together to build up excitement. I love how the trailer itself has so many quotes I still go around saying. For instance, I still find myself going around saying: "I suspect foul play."
---
Unforgettable Movie Quote of the Year
"I love you 3,000." — Avengers: Endgame
Speaking of great quotes, although it may sound simple when you read it, no quote has managed to break me quite like this one did. Yeah, I'm a nerd. I get it. But these films mean something to a lot of people — including myself — and somehow the writers found the perfect line of dialogue to bring fans to tears. It begins as a simple line of dialogue that Tony Stark's daughter uses when she says goodnight to her father, and it ends as the perfect farewell to the people that Stark loved.
---
Unforgettable Scene or Sequence of the Year
Avengers Assemble — Avengers: Endgame
In the end, the two scenes that ended up really competing for this award were scenes from Avengers: Endgame and Parasite, two wildly different films that I love. Though (please let the record show) Parasite has the best scene of the nominated films, I ended up choosing Avengers: Endgame because this award is meant to celebrate what moments are truly unforgettable, and I, frankly, think the Avengers Assemble-moment, which Marvel and Disney had been building up to since 2012, is going to become as iconic as some of the greatest Star Wars moments from the late 1970s and early 1980s. I may be wrong about that, but you have to admit that this moment is unforgettable.
---
Best Achievement by a Rising Star: Acting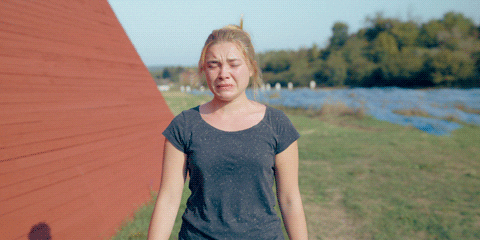 Pugh, Florence — Midsommar
Ari Aster really gets a lot out of his leading ladies in his horror films. Florence Pugh has been on my radar since I saw William Oldroyd's Lady Macbeth. That was a great breakout performance from the British actress, but, in 2019, she gave several performances that put her on everyone's radar. I think Florence Pugh is extraordinary in Midsommar. Her breakdowns and insecurities are conveyed so well and had this not been a horror film, then it probably would've led to more awards consideration for her and the film.
---
Best Achievement by a Rising Star: Filmmaking
el-Toukhy, May — Queen of Hearts (Original Title: 'Dronningen')
In the last three years, I have given this award to three American horror filmmakers who are all men. Their films have been watched by millions around the world. But, this time around, I give the award to a filmmaker who hasn't really made a name for herself outside of Denmark yet. Even in Denmark, she isn't a huge star yet. Her previous film — Lang Historie Kort — seemingly didn't leave much of an impression on the moviegoing public, but Dronningen made her one of the most exciting rising stars in the Danish film industry. It is a terrific thriller about gender roles and abuse of power that should've earned Denmark and el-Toukhy an Oscar nomination in the Best International Feature Film-category.
---
Best Documentary
Apollo 11 — Neon / Universal Pictures
From my review of Apollo 11:
"Todd Douglas Miller's Apollo 11 is really impressive. It's a short and sweet but awe-inspiring documentary. I think it is astonishing that Miller and his crew somehow managed to build up tension in a documentary about a mission that everyone knows succeeded. I think a lot of people might be on the edge of their seats during the moon landing and the re-entry. Like last year's They Shall Not Grow Old, Apollo 11 is one of the best documentaries of the decade, as well as one of the few documentaries that probably ought to be mandatory viewing in schools forever."
---
Best Achievement in Visual Effects in a Film
Avengers: Endgame — Walt Disney Studios Motion Pictures
In the end, the two films that I considered for this award were Avengers: Endgame and The Irishman. I think the effects in The Irishman represent a huge step forward for the industry, and it would've been a worthy winner. But, in the end, I went with Avengers: Endgame which probably has more visual effects than any other film nominated here. This film also created several iconic moments using visual effects some of which may stand the test of time, which I fear the effects in The Irishman may not.
---
Best Achievement in Production Design
From my review of Parasite:
"Every inch of Bong's film is masterful. The Parks' home is eerily sleek but modern and faultless, and the secrets within are well-kept and carefully disclosed."
---
Best Achievement in Costume Design
Carter, Ruth E. — Dolemite Is My Name
One of the most frustrating snubs at the 92nd Academy Awards was that Dolemite Is My Name wasn't even nominated for Ruth E. Carter's costumes. Her confident and colorful costumes added so much to the film. I'm still so incredibly confused that it wasn't even nominated for its costumes. I don't understand it.
---
Best Achievement in Cinematography
From my review of 1917:
"Roger Deakins is arguably one of the greatest cinematographers to have lived, and 1917 has allowed him to work his magic yet again. Deakins has worked wonders under the pressure of this enormous challenge with camera movements that are outstanding and memorable scenes dominated by the memorable use of lighting. The lighting in the night scenes is nightmarish. Deakins captures these frightening shots wherein the shadows that are formed by flares look as if they threaten to swallow up our main character and eat him whole."
---
Best Film Score
From my review of 1917:
"It is a varied original score that hits some predictably propulsive or bombastic beats, but which also captures these tender, saddening, or even eerie notes on tracks that I remember specific scenes or sequences for. "
---
Best Film Editing
Parasite is sharply and beautifully edited. When I think of the editing in Parasite, I think of the peach-montage, the sequence where the Kims have to clean the Park home and hide, as well as some of its creative transitions. The aforementioned montages are incredibly memorable, and I think Yang Jin-mo does an amazing job of helping Bong Joon-ho to emphasize and control the tension and humor of select sequences.
---
Best Visual Effects or Voice-Over Performance by an Actor in a Film
Pacino, Al — The Irishman
I think that all three of the nominated actors from The Irishman could've won this award because they all give their best performances in decades. They were all exceptional in the film. In the end, I decided against Robert De Niro because of how the visual effects were not always able to disguise his actual age to a satisfying degree. I went with Al Pacino because I think this is probably my favorite performance of his in the last three or four decades. He is so charming and likable in The Irishman, and I think Pacino controls his iconic real-life character in a really great way. Though other actors have played Jimmy Hoffa, I will probably always think of Al Pacino when I hear that name, which, I think, says a lot about his performance.
---
Best Supporting Performance by an Actor in a Film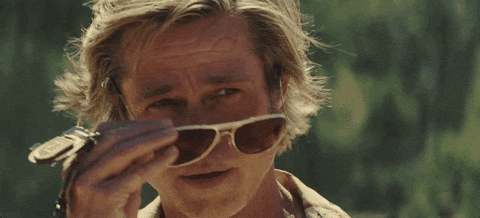 Pitt, Brad — Once Upon a Time in Hollywood
From my review of Once Upon a Time in Hollywood:
"On a list of frequent collaborators with which Tarantino has the best partnership, Samuel L. Jackson or Christoph Waltz may be at the very top prior to the release of this film, but, after having seen this film, I think Brad Pitt is just as good. Here Pitt oozes charisma and is effortlessly cool. He's a complex but easy-going personality, and Pitt's performance is arguably more memorable than the one he gives in Inglourious Basterds."
---
Best Supporting Performance by an Actress in a Film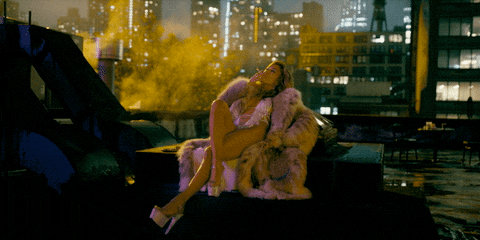 Lopez, Jennifer — Hustlers
From my review of Hustlers:
"Jennifer Lopez is just incredible here. This is without a doubt the best performance that I have ever seen her give. There is a great and enchanting physicality to her on-stage performances, one of which is, frankly, jaw-dropping. In the movie-theater that I saw the film in, audience-members were dropping their phones left and right from what I gather was pure amazement. It definitely is one of the most memorable performances of the year, […]"
---
Best Performance by an Actor in a Film
Driver, Adam — Marriage Story
I think Joaquin Phoenix is incredible in Joker. But I also think that Adam Driver's outstanding performance in Marriage Story is underappreciated by major guilds and academies. I understand if it were difficult to pick between the two performances, but I think it is a true shame that what I, at this moment, think is the most vulnerable and moving performance of the two has been ignored whenever award statuettes were handed out.
From my review of Marriage Story:
"I have come to think of Adam Driver as one of the best actors of his generation. He brings power and physicality, but also vulnerability and bewilderment to this character. Adam Driver made me well up more than a handful of times, including in the scene where he first blows up completely before he falls to his feet in his clinical apartment. Adam Driver makes the most out of even a sigh or a breath at the end of an impromptu rendition of 'Being Alive.'"
---
Best Performance by an Actress in a Film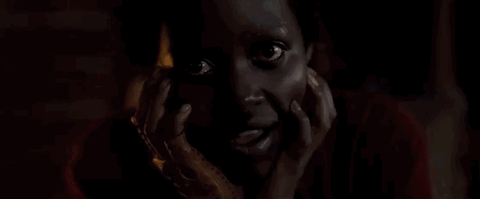 From my review of Us:
"Her motherly determination as Adelaide is compelling and watching her turn into Us' final girl is thrilling. But she is just as good as Adelaide's shadow. I hung onto every word she spoke with her character's frightening distinctive gravely accent. Lupita Nyong'o is phenomenal."
---
Best Performance by a Cast in a Film
From my review of Parasite:
"Bong's Parasite also includes several engaging performances from the entire ensemble. The entire Kim-family is outstanding, and Song Kang-ho is probably the standout as the kind but weary Mr. Kim. But I would also add that Cho Yeo-jeong is delightful as the simple but kind Mrs. Park."
---
Best Achievement in Writing a Film: Adapted
Zaillian, Steven — The Irishman
Steven Zaillian gave Scorsese an interpretation of Frank Sheeran's life story that is full of remorse. It is one of the most haunting films of Scorsese's career, and you don't realize just how much mortality plays into the film until the second half of the masterful crime epic.
---
Best Achievement in Writing a Film: Original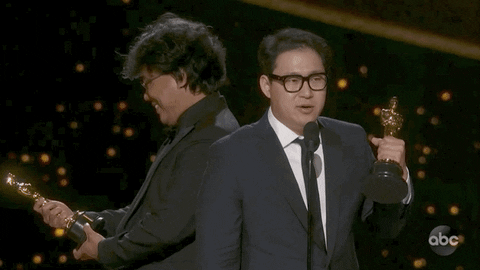 Bong Joon-ho and Han Jin-won — Parasite
From my review of Parasite:
"The world of Parasite is a dog-eat-dog society, and Bong and co-writer Han Jin-won's dialogue is loaded with powerful figurative expressions. For example, Bong's film makes it clear that the poverty-stricken are ghosts to the rich, which is to say that the rich do not notice them or recognize their challenges, and when the poor make their presence known — when they cross the line — they are decidedly displeasing."
---
Best Achievement in Directing a Film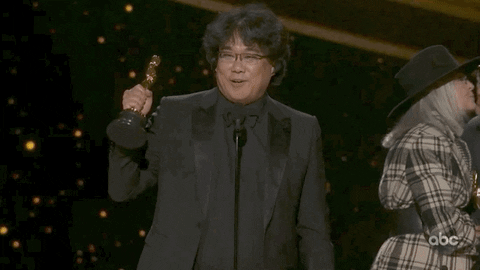 From my review of Parasite:
"Bong captures both the feeling of a fun heist film and an incredibly tense thriller. There are even scenes that make the hair on the back of your neck stand up. Frightening, funny, and thrilling, Parasite is a true masterwork that, I think, could be immensely rewatchable."
---
Best Sequel, Prequel, or Remake
Avengers: Endgame — Walt Disney Studios Motion Pictures
From my review of Avengers: Endgame:
"In short, Avengers: Endgame is an incredible and overwhelming achievement. It is the most heart-wrenching and most satisfying comic book film I've ever seen. It might be Marvel Studios' finest hour, so to speak."
---
Best Animated Film
Toy Story 4 — Walt Disney Studios Motion Pictures
From my review of Toy Story 4:
"Complete with incredible, state of the art photorealistic animation, Toy Story 4 is a wise and funny sequel which holds a comforting central message and growth for characters that we may not have realized needed some. I may not have wanted this sequel in the first place, but now I'm not sure I'd want to be without it."
---
Best Danish Film
Queen of Hearts (Original Title: 'Dronningen') — Nordisk Film
From my review of Dronningen:
"Deliberately paced and sinful-to-the-bone, May el-Toukhy's Dronningen is a remarkable, stylish tragedy about gender-roles and an abuse of power. The way Dyrholm upends our expectations and takes control of the narrative is astounding and it left me with my mouth agape. Dyrholm owns the unforgettable, venomous titular role in Dronningen, which, I think, might be the best Danish film since Thomas Vinterberg's Jagten."
---
Best Non-American Film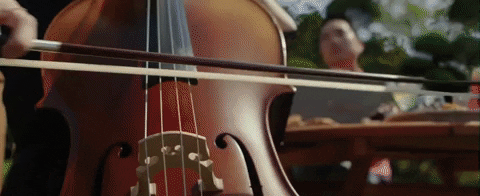 From my review of Parasite:
"During the 2010s, I have started to become infatuated with South Korean cinema. Though some might say foreign films are an acquired taste, I would prefer to classify Bong's latest film, Parasite, as an incredibly rich experience that I implore moviegoing audiences of all shapes and sizes to watch. Bong's genre-bending Parasite is, like Lee Chang-dong's Burning, a South Korean class-conscious masterpiece that I both admire and adore."
---
Best Film
Parasite — CJ Entertainment
Parasite is a special movie. I think it is a masterpiece, and, as you can see, I think it is the best film of 2019. But I also think it is genuinely one of the best films of the 2010s. You have no idea how happy it made me to see it win Best Picture at the 92nd Academy Awards. This film made history, and I do believe it is the right film for that historic moment. This one-of-a-kind film is going to inspire filmmakers all around the world to pursue their dreams, and I think that is so exciting.
---
Best Body of Work: Acting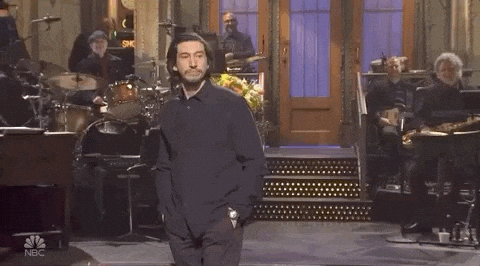 Adam Driver — Marriage Story; The Report; Star Wars: The Rise of Skywalker; The Dead Don't Die.
This is a completely new award for this year and going forward. With this award, I hope to celebrate an actor, or actress, who has given strong or memorable performances in several films throughout the year. Preferably, the celebrated actor has appeared in more than two films, but, I suspect, it may be difficult to find the right winner if I make such a strict rule to the category. This year, it came down to Adam Driver and Brad Pitt. The fact of the matter is that Brad Pitt gave two of the year's best performances in Once Upon a Time in Hollywood and Ad Astra.
However, one of the reasons why I ended up choosing Adam Driver is that I think he has once again proven just how versatile he is. In The Dead Don't Die, his dry wit is the highlight of a film that is challenging to get into. In Star Wars: The Rise of Skywalker, he once again proved that he is the absolute best new actor in the Star Wars sequel trilogy. He convincingly conveys the internal struggle of his character. In The Report, Driver somehow made the film's many information dumps gripping. Finally, of course, he gave the best male performance of the year in Marriage Story. What a year. What an actor.
---
Film Legend Award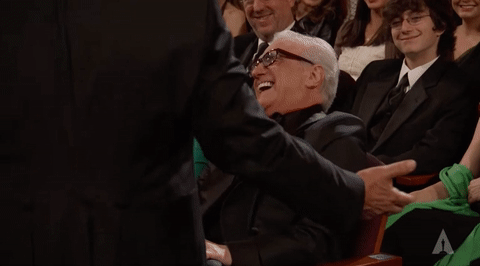 Martin Scorsese — Director, Producer, Screenwriter.
Martin Scorsese is an Academy Award-winner, BAFTA Film Award-winner, Grammy Award-winner, Emmy Award-winner, Golden Globe Award-winner, and a Palme d'Or-winner. He has been nominated for Best Director at the Academy Awards a total of nine times, and if he earns three additional Best Director-nominations over the course of his career, then he would tie the record for most Best Director-nominations. Scorsese is probably my favorite filmmaker of all-time. I love hearing him talking about films. I love reading about his love of the medium. I am always incredibly excited about watching his films. Aside from filmmaking, Scorsese has dedicated much of his career to film preservation. Martin Scorsese is going to be remembered as one of the best filmmakers of all-time — he is a film legend.
---
And that's it for the 2019 awards! See you all next year!
---
– Jeffrey Rex Bertelsen.