What happened at the 92nd Academy Awards was incredible. Just ask most Oscar experts and they will agree. This was, based on statistics and precursor awards results, supposed to be Sam Mendes' and 1917's night. Though I desperately wanted Parasite to win all of the night's biggest awards, my head was telling me no. Therefore, in my final predictions, I went with the safe bet and said 1917 would win Best Director and Best Picture. I've never been so happy to be wrong about an Oscar-prediction. In the end, the latest South Korean masterpiece — Bong Joon-ho's Parasite — won the night's two biggest awards (as well as two other prestigious golden statuettes). The Academy made the right choice. This time, in my opinion, the Best Picture winner is actually the best film of the year. The Academy finally got it right, as they say.
But let's rewind everything for a second and talk about the show as a whole. Although I am elated right now because of the success of Parasite, I think the 92nd Academy Awards, as a show, was quite boring. Outside of Best Director and Best Picture, this Oscars ceremony was incredibly predictable. The hostless show was awkward more often than not. Seeing random actors speak into a microphone for the sole purpose of introducing presenters became tiring, and the introductory jokes from Steve Martin and Chris Rock were extremely unimaginative. With that having been said, I thought that Maya Rudolph and Kristen Wiig were hilarious when they were on-stage. The final thing that I want to say about the show is that I think it became too focused on music. There were simply too many on-stage performances. Eminem was a nice surprise, the In Memoriam was moving, and Cynthia Erivo's musical performance on-stage was powerful. But the musical opening of the Oscars went on and on and somehow highlighted costumes from films that the Academy snubbed. It was bizarre.
For me, the most memorable speeches this year came from Bong Joon-ho, Brad Pitt, Laura Dern, and Joaquin Phoenix. Bong Joon-ho gave a number of speeches, of course, but his speech as he won Best Director was special. He was so incredibly humble as he singled out his fellow nominees. He was so humble, in fact, that his 'shout-out' to Martin Scorsese made the crowd give a standing ovation to the legendary American filmmaker. Joaquin Phoenix's speech was thoughtful, and, at the end of it, he moved us all as he mentioned his late older brother River Phoenix. I thought it was a great Oscar moment to see Laura Dern talk about her parents, and Brad Pitt's political comment was strong. Meanwhile, the final Oscar-winner for acting, Renee Zellweger, gave an overlong speech that Danish television experts claimed almost put one of them sleep.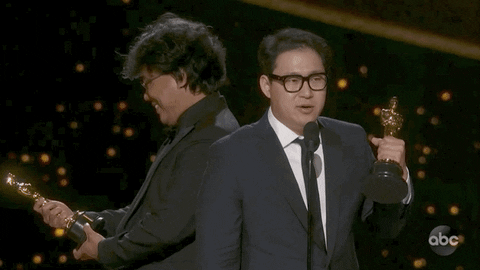 But it doesn't matter. Because, in the end, Parasite made history. Bong Joon-ho was on-stage to accept an award four different times. It became the first South Korean film to win an Oscar. Amazingly, Parasite became the first foreign-language film ever to win the Best Picture-category at the Oscars. Parasite is a masterpiece, and it is the best film of 2019. Bong Joon-ho's masterpiece ended up winning Best International Feature Film, Best Original Screenplay, Best Director, and Best Picture. This is a huge step in the right direction for the Academy. Here the Academy proved that they can appreciate subtitled films. They proved that they can appreciate foreign cinema, and, hopefully, Parasite is just the first of many foreign-language films to win Best Picture. Tonight filmmakers all over the world dream big.
– Jeffrey Rex Bertelsen.