It's the final day of 2018. What that means is that it is time to reveal the first half of my personal 2018 awards winners. This list will honor what I consider to be the best in song, heroics, and television. To see a complete of the nominees, click here. Also, do remember that the film nominations will be revealed in early 2019.
---
Song of the Year
"Make Me Feel," – Performed by Janelle Monáe (from the studio album "Dirty Computer").
No song this year has made me want to dance in front of everyone quite like Janelle Monáe's "Make Me Feel" does. That may not be a pretty sight to behold, but Monáe's confidently hot and funky single is exactly what I needed this year. It is, indeed, "so good, so good, so fucking real."
---
Best Performance by a Voice Actor in a Gaming Experience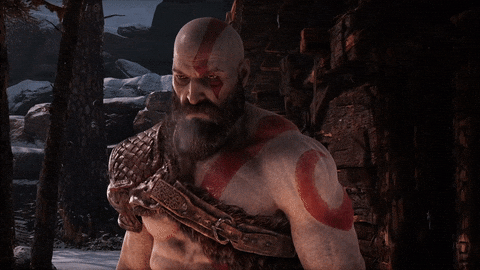 Christopher Judge – God of War.
Okay, sure, is the way Judge says "Boy," hilarious? Absolutely, but Judge handles the quiet complexity of Kratos to perfection. You should've seen me when I found out Kratos was voiced by Teal'c (google it) in this game.
---
Game of the Year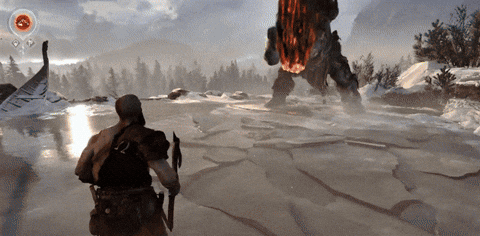 God of War – Santa Monica Studio.
This was tough. Red Dead Redemption 2 is probably the best open-world game that I have ever played. The slow-moving nature of the game was perfect for me. The mood of the game was right up my alley. So why did I go with God of War? Because this is a video game masterpiece about Norse mythology. In a way, it feels like this game was made for me, even though I've never cared about Kratos before. This was an emotional and a beautiful game, and to throw that axe was amazing — god-like doesn't even begin to describe it.
---
Best Performance by an Actor in a Superhero Film or Television Show
Michael B. Jordan – Black Panther.
When I saw Jordan in Black Panther I was stunned. Jordan, already one of my favorite actors of his generation, gave an antagonist performance that moved me to tears. That has never happened with a comic book movie before. Jordan is such a gifted young actor, and, this year, he may have delivered the best male supporting performance in a 2018 film. Or, well — actually, you'll have to wait for the film winners to find out. But Jordan was an easy choice in this category. He was extraordinary in Black Panther.
---
Best Performance by an Actress in a Superhero Film or Television Show Zoë Saldana – Avengers: Infinity War.
This, on the other hand, was a tough category for me. What it came down to was what female performance in a superhero film I was the most moved by, but, also, I tried to figure which performance I would still think about years from now. With that in mind, there was really only one choice. I still think about Saldana's scenes with Quill in Infinity War, and I still think about what Thanos did to Gamora. Saldana finally got a lot to do, but I never thought it would end like this for her character.
---
Superhero Film of the Year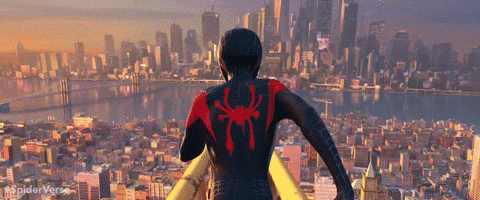 Spider-Man: Into the Spider-Verse — dir. Bob Persichetti, Peter Ramsey, and Rodney Rothman — Sony Pictures Releasing.
If you haven't seen this film, then you have no idea just how special this film is. It is jam-packed with characters like Infinity War (though not with as many as in that film), but it also has a message that is central to the concept of the film, which gets right to the heart of the original Spider-Man character. I genuinely think this is not just an animated masterpiece, but also one of the best animated films of the decade. If you decided to skip this one, then you made a bad decision. Run to the theater. This one is very special.
---
Best Supporting Performance by an Actor in a Television Show
Henry Winkler – Barry (HBO).
Oh man, no one this year has made me belly-laugh as much as Winkler has. Gene Cousineau is a perfect character for Winkler, who has gotten a sublime supporting role on Bill Hader's great new show. I'm pretty sure my dad only watches Barry to see what Winkler is up to.
---
Best New TV-Show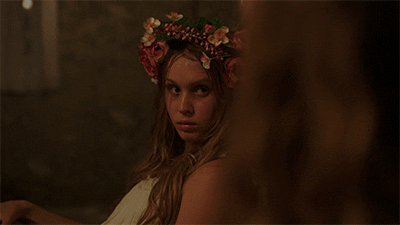 Sharp Objects – Limited Series – HBO.
It always feels wrong to give this award to a limited series, but it would be doubly wrong to give it to any other show, in my opinion. This is the new show that I will remember this year for. But, yeah, I guess it is tough for an on-going show to be associated with a specific year. But I digress, Sharp Objects is a show that, I think, is borderline perfect. As a book reader, are there one or two things I wish they had done differently? Sure, but that's the life of a book reader. That will always happen.
---
Best Performance by an Actor in a Television Show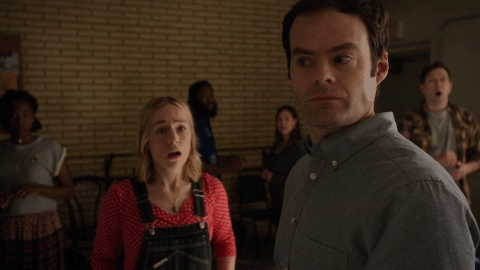 Bill Hader – Barry (HBO).
This was tough. I mean, really tough. Harris was great. Bob Odenkirk was outstanding in the last couple of episodes of the previous season of Better Call Saul. Cumberbatch gave what is likely to end up being his most underappreciated performance, whereas Darren Criss gave a career-changing dramatic breakthrough performance.
So, why I did I go with Bill Hader? Well, I think his performance is just as outstanding as all of the previously mentioned performances but, more than that, I think that he, like Criss, went out and made a name for himself as a dramatic actor here. Because, yes, Barry is mostly a comedy, but it has these incredibly powerful dramatic moments where Hader as an actor taps-in to something greater than what the show is on-paper.
---
Best Performance by an Actress in a Television Show
Amy Adams – Sharp Objects (HBO).
Oh, how Adams has evolved. From the adorable Brenda Strong in Spielberg's Catch Me If You Can to the damaged Camille Preaker in Sharp Objects, Amy Adams has, throughout her career, proven herself to be one of the very best actresses of her generation — if not the best, full stop. She is absolutely extraordinary in this show, and she gave me everything I wanted from her character. It might be the strongest television performance of the year — male or female.
---
Best Performance by a Cast in a Television Show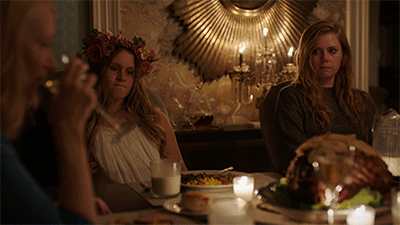 Sharp Objects – Limited Series – HBO.
I remember how when I was writing a review of the series, it annoyed me that I couldn't fit all of my thoughts on the strong performances in the article. I've already talked about Adams. Clarkson is a creepy ice queen, and she plays it to perfection. Scanlen is mesmerizing. Messina's performance improves his character, thus elevating it to new heights — he does more with the character than I expected. I could go on and on.
---
Television Episode of the Year
"Free Churro," — BoJack Horseman: Season Five
From my season review:
"[…] the one episode that I was most blown away by is this year's deeply emotional and surprisingly funny concept episode — episode six, "Free Churro" — that relies entirely on Will Arnett's abilities as a voice actor. If you can look past the episode opening teaser, then this episode, from start to finish, is one long monologue in a single location. To say more about why BoJack Horseman is speaking would be to spoil an important plot point, but I will say that this episode has two twists — one of them is devastating, and the other is laugh-out-loud hilarious. As I wrote on one of my social media accounts, this is a brilliant episode that should earn Will Arnett an Emmy award."
---
Television Show of the Year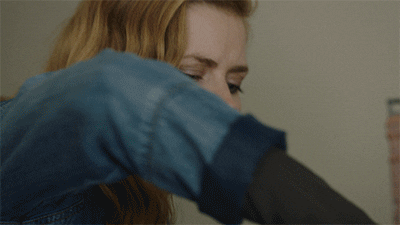 Sharp Objects – Limited Series – HBO.
From my review:
"This adaptation fully lived up to the promise and potential of the book, and Vallée's auteur touch has made this story of crime and trauma into a Southern Gothic mini-series masterpiece."
---
Unforgettable Television Quote of the Year
"If you want to have a hobby or something, then you can take up painting. Hitler painted! John Wayne Gacy painted. It's a good, solid hobby. It never got in the way of what they were doing." – Barry: Make Your Mark
Though I don't have a lot of love for Stephen Root's character, he, like all of the supporting characters, makes me laugh a lot. This is a quote that speaks for itself. This is a handler trying to win over a killer, who has lost his cool, so to speak. It's dark, it's funny, and, I mean, that's the show.
---
Television Legend Award
Henry Winkler – Actor, Comedian, Director, Writer, Producer.
An unstoppable, still-going-strong, living television legend like few others, Henry Winkler now becomes the first recipient of one of my two legend awards — lifetime achievement awards — to also win a regular award in the very same year. Ever since the days of, well, Happy Days, Winkler has been making us smile and laugh in a number of ways. Maybe you love him for Fonzie, Barry Zuckerkorn, his new character Gene Cousineau, or another character altogether. Maybe you loved them all. This is a television legend who has managed to warm the hearts and tickle the funny bone of multiple generations. Now, that's impressive.
---
The second half of the I'm Jeffrey Rex Awards for 2018 will be revealed in February 2019. The second half of the awards are focused entirely on film awards.
---
– Jeffrey Rex Bertelsen.