The film nominations for the 2019 Golden Globe Awards have been announced. As always there are surprises, and, of course, there are some snubs that really hurt. In Special Features #36, I present you with the complete film nominations list as well as five reaction sections to the film nominations. In short: Oh, Hollywood Foreign Press Association, I am so angry with you today.
---
Complete Film Nominations List – Golden Globes 2019
---
Best Foreign Language Film
Capernaum
Girl
Never Look Away
Roma
Shoplifters
Best Animated Feature Film
Incredibles 2
Isle of Dogs
Mirai
Ralph Breaks the Internet
Spider-Man: Into the Spider-Verse
Best Original Song
"All the Stars," – Black Panther
"Girl in the Movies," – Dumplin'
"Requiem for a Private War," – A Private War
"Revelation," – Boy Erased
"Shallow," – A Star is Born
Best Original Score
A Quiet Place
Black Panther
First Man
Isle of Dogs
Mary Poppins Returns
Best Screenplay
Green Book
If Beale Street Could Talk
Roma
The Favourite
Vice
Best Director
A Star is Born – Bradley Cooper
BlackKklansman – Spike Lee
Green Book – Peter Farrelly
Roma – Alfonso Cuaron
Vice – Adam McKay
Best Supporting Actor
Mahershala Ali – Green Book
Timothee Chalamet – Beautiful Boy
Adam Driver – BlackKklansman
Richard E. Grant – Can You Ever Forgive Me?
Sam Rockwell – Vice
Best Supporting Actress
Amy Adams – Vice
Claire Foy – First Man
Regina King – If Beale Street Could Talk
Emma Stone – The Favourite
Rachel Weisz – The Favourite
Best Actor – Musical/Comedy
Christian Bale – Vice
Lin-Manuel Miranda – Mary Poppins Returns
Viggo Mortensen – Green Book
Robert Redford – The Old Man and the Gun
John C. Reilly – Stan and Ollie
Best Actor – Drama
Bradley Cooper – A Star is Born
Willem Dafoe – At Eternity's Gate
Lucas Hedges – Boy Erased
Rami Malek – Bohemian Rhapsody
John David Washington – BlackKklansman
Best Actress – Musical/Comedy
Emily Blunt – Mary Poppins Returns
Olivia Colman – The Favourite
Elsie Fisher – Eighth Grade
Charlize Theron – Tully
Constance Wu – Crazy Rich Asians
Best Actress – Drama
Glenn Close – The Wife
Lady Gaga – A Star is Born
Nicole Kidman – Destroyer
Melissa McCarthy – Can You Ever Forgive Me?
Rosamund Pike – A Private War
Best Motion Picture – Musical/Comedy
Crazy Rich Asians
Green Book
Mary Poppins Returns
The Favourite
Vice
Best Motion Picture – Drama
A Star is Born
Black Panther
BlackKklansman
Bohemian Rhapsody
If Beale Street Could Talk
---
There are many reasons why you might be angry with them. Maybe you hated Green Book. Maybe you thought A Star is Born was overrated. Maybe you were disappointed by the lack of female filmmakers in the Best Director-category (like, for example, Lynne Ramsay's work on You Were Never Really Here deserves so much more attention than it has gotten thus far this awards season). But here are the five things that I want to talk about today.
---
#1 – Put a fork in Steve McQueen's Widows
Though it'll probably be a contender for the SAG Outstanding Cast Award, Steve McQueen's Widows isn't having much success during this awards season. I loved the film, and I was hoping that Gillian Flynn and Viola Davis would get film nominations at the Golden Globes, but, unfortunately, that was one of my many ungranted awards season wishes. I think it'll have a hard time breaking through to the Oscars now, but it isn't alone in being on awards season life support right about now as a dirt result of the Golden Globes.
---
#2 – No boost for Damien Chazelle's First Man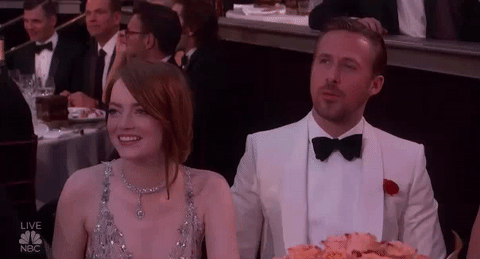 While Ryan Gosling's frequent castmate Emma Stone got herself a nomination for her work in The Favourite, the Canadian star who played the stoic American astronaut icon Neil Armstrong in Damien Chazelle's First Man was not so lucky. In the Best Actor (Drama) category, the Hollywood Foreign Press Association preferred five other performances this year — some of these are legitimate surprise nominations (John David Washington, Lucas Hedges, Willem Dafoe).
Composer Justin Hurwitz, who crafted the most hauntingly beautiful original score for a biopic that I've heard in a very long time, deservedly got a nomination for Best Original Score, and Claire Foy got a somewhat obvious Best Supporting Actress nomination. But I think First Man needed more of an awards season boost than this. Chazelle didn't show up in Best Director, and, surprisingly, the film was also ignored by the HFPA in Motion Picture (Drama). And it breaks my heart because I love this film.
---
#3 – Classic HFPA
Though it does not make sense that an organization like the HFPA would ignore a film like Mamma Mia! Here We Go Again, one of the films that they did love is a classic example of the HFPA being, well, themselves. I haven't seen the film yet, but I knew they would fall head over heels in love with Green Book.
A Star is Born is tailor-made for that group. We knew these films would get a lot of nominations. But… I mean… I had hoped their love for the critically divisive and factually inaccurate Bohemian Rhapsody was not so strong that it would ruin the hopes of other deserving films. But that is exactly what happened.
---
#4 – Is critical acclaim enough to take First Reformed all the way?
The category Best Actor (Drama) was the one that surprised me the most. It was here that At Eternity's Gate got a lone nomination and also where John David Washington and Lucas Hedges somewhat surprisingly took nominations from two performances that I'd call critical darlings — those delivered by Ryan Gosling in First Man and Ethan Hawke in First Reformed.
I've already talked about First Man, which was a film that was in desperate need of a boost in above-the-line categories. First Reformed is a different beast altogether. First Reformed has already been given a huge boost by critics groups — so much so that Paul Schrader's screenplay and Ethan Hawke in Best Actor were starting to be regarded as frontrunners, for some. And then the HFPA decided to ignore the film completely. Now we must ask ourselves if the critical praise for First Reformed can actually turn it into an Oscar nomination contender. I have my doubts.
---
#5 – A huge day for Black Panther and BlackKklansman
But while I mourned over the setbacks for First Man, Widows, and First Reformed, I was excited by the strong showing for both Black Panther and BlackKklansman — two films I really like a lot, though not as much as the three films I mentioned before. Black Panther earned three nominations including one in the category Best Motion Picture (Drama) — thus making it the first superhero film to appear in that category ever.
Spike Lee's BlackKklansman received four nominations. BlackKklansman is up against Black Panther in the category Best Motion Picture (Drama), but Lee's film also appeared in the categories Best Supporting Actor, Best Director, and Best Actor. Black Panther and BlackKklansman may go all the way to the Academy Awards.
– Jeffrey Rex Bertelsen.