A couple of days ago, The Wrap reported that Lando Calrissian will be appearing in the Han Solo anthology film! Now, we haven't gotten that confirmed yet, and we don't know how much he'll be in the film, if he is indeed in it. But Birth.Movies.Death have reported that Community's Donald Glover is the first choice for the part, which obviously makes me happy. But let's today talk about who could, or should, play Lando if Glover doesn't take the role.
Lando Calrissian has appeared in two live-action films: The Empire Strikes Back and Return of the Jedi. But he always appears in all the other shows or games. As much as Carrie Fisher is Leia, Billy Dee Williams is Lando. But Lucasfilm is trying to make films about some of these characters, and they need 'young' versions of some specific characters. Lando's next.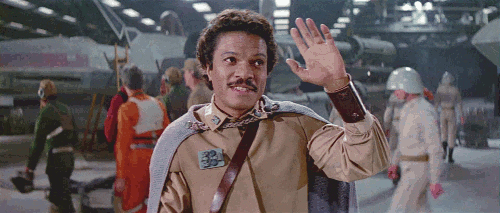 Age: 25-38. I believe Billy Dee Williams was 43 years old, when he first appeared in The Empire Strikes Back, but my guess is that the Han Solo anthology film will be set prior to A New Hope. Alden Ehrenreich is in his late-20s, so you would expect that the guy who plays Lando would be around the same age, but I think you can make it work if the actor is a little bit older.
Height: Currently the Star Wars databank lists him at 1.78 meters, so it would probably have to be around that.
So, with that out of the way, I am about to move onto my top five picks for the part of young Lando Calrissian in the Han Solo anthology film. But I will not be mentioning Donald Glover, as I mentioned in the introduction. I've been a fan of Glover for a good number of years now. I love his music and I loved him in Community, one of my favorite comedy shows of all-time. But I do think it is too easy to pick him in the following list, seeing as he has been called the frontrunner. But I would love to see Donald Glover as Lando.
So, without further ado, here are my top five picks for young Lando Calrissian:
Michael B. Jordan (Chronicle; Fruitvale Station; Creed): Jordan is becoming one of my favorite actors really quickly. I always feel like I should watch everything he is in, and I think he has exactly what it takes to play Lando Calrissian. He even has the right age and height. This is probably the most perfect pick for the part.
Anthony Mackie (The Hurt Locker; Captain America: The Winter Soldier): Mackie doesn't get enough big roles. There's just one problem and that's the age. Technically, he is in the age range I listed above, but they need to shoot this film quickly if they want this type of talent.
Corey Hawkins (Straight Outta Compton; The Walking Dead): I really liked Hawkins in Straight Outta Compton, and I think he could work here if they want to go for someone who doesn't have a household name yet. Just one problem, he may be a bit too tall for the part.
Shameik Moore (Dope): If they want someone really young to maybe one day lead his own anthology film, then this may be the guy for Lucasfilm.
Alfred Enoch (Harry Potter-franchise; How to Get Away with Murder): Again, the height may be a problem. But he has the right age, and would be someone audiences would recognize, even though they may have a tough time remembering where they saw him.
Who do you think should play young Lando? Sound off in the comments!
– Jeffrey Rex