Today the full list of nominations for the upcoming Academy Awards ceremony was announced. A day like this one is like Christmas morning, to me, but this year's list of nominations really upset me. I have a lot to say today.
---
The Good
---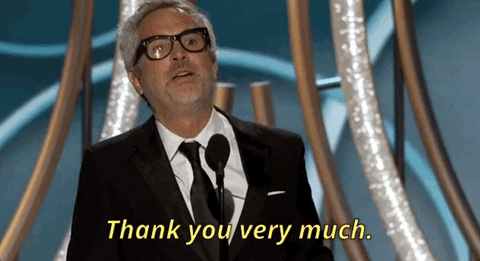 And we have our frontrunner! Though The Favourite, which I'll probably see later this week, also received ten nominations, it is another film by a non-American director that is pushed into the number one spot. Roma is your frontrunner, and even though other films like BlackKklansman, Green Book, Bohemian Rhapsody, A Star is Born, and The Favourite still have a good chance to take Best Picture — it is a Netflix film that takes the top spot.
Netflix didn't just get ten nominations, though. The streaming service had a huge breakthrough this year with fifteen nominations! Absolutely insane. It is now officially no longer acceptable to write a film off because it is distributed by the people's favorite streaming service.
Make no mistake, Roma overperformed. Though I am surprised it did not get a film editing nomination, it performed surprisingly well in other categories. It wasn't just Yalitza Aparicio who broke through. Supporting actress Marina de Tavira took the spot that Claire Foy was expected to get in their category.
Those closest to me know that the one odd nomination I was hoping for was for The Ballad of Buster Scruggs to get a nomination in Best Song. I loved that musical number, I loved that movie, and I was equally ecstatic when Mary Zophres' nomination for Best Costume Design was announced. Scruggs received three nominations. The third and final nomination it received was for its screenplay (adapted), which is a well-deserved nomination.
Tomorrow, I hope to have a full review of Pawel Pawlikowski's Cold War ready for you. I saw the film last night, I really liked it, and therefore I was very happy with how it performed. I predicted it to perform exactly as well as it did, which doesn't mean it isn't a surprise to a lot of people obviously. Like Roma, this is a black-and-white foreign language film that AMPAS loved. Pawlikowski's film earned nominations in Foreign Language, Best Cinematography, and Best Director. It's a great year for films not in the English language.
BlackKklansman is a film that I think could perform extremely well on the preferential ballot, and it performed really well in the nominations today. It scored six nominations. Spike Lee got his first Best Director nomination, Adam Driver got a Supporting Actor nomination, and much more went BlackKklansman's way.
Legendary filmmaker Paul Schrader received his first Oscar nomination ever this morning (Original Screenplay) for First Reformed. Unfortunately, Ethan Hawke did not get a Best Actor nomination for that film.
The Oscars and the Marvel Cinematic Universe don't usually go together. Actually, The Oscars and Superhero Movies don't usually go together, unless it's in below-the-line categories. But this year it all changes. Black Panther is now the first superhero film ever to be nominated for Best Picture. Though it got no other above-the-line nomination, the groundbreaking Marvel film ended up with a total of seven nominations. A great day for Marvel and Disney.
---
The Bad
---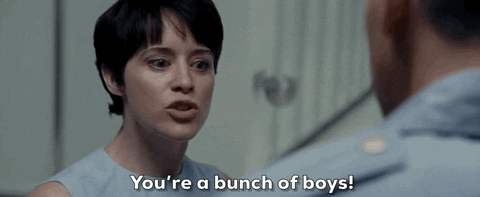 My favorite film of 2018 was directed by Lynne Ramsay. That is just one of many films from female filmmakers that critics have been championing during this awards season. And yet no female directors were nominated for Best Director. To add insult to injury, all films nominated for Best Picture were directed by male filmmakers.
In Best Actor, the Academy didn't go with the critical frontrunner — Ethan Hawke — for any of its five spots. I'm shocked that Dafoe got a nomination ahead of Hawke, Gosling, and John David Washington.
I've said it before, and I'll say it again. I don't understand the wide-spread awards love for Bohemian Rhapsody. Yes, Rami Malek is great. Yes, sure, the costumes are good. The concert scene is terrific. But that's it. How did it get a nomination in Film Editing? Why is it in the Best Picture category? How did it get five nominations?!
Though Black Panther performed well, I think it's a real shame that Michael B. Jordan wasn't nominated for Best Supporting Actor, and I think it is just as disappointing that it wasn't nominated for Best Adapted Screenplay.
---
The Ugly
---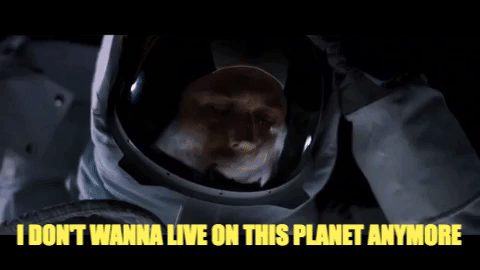 No bulleted-list for this section, because there is really only one ugly surprise that has made me really upset. I hate how First Man has been treated this awards season, and I am so disappointed in AMPAS today. Though First Man ended up getting four deserving nominations, it did not get the three nominations that I thought the film deserved the most: Film Editing, Cinematography, and Original Score.
The thing that has made me the most upset is that composer Justin Hurwitz wasn't nominated for his brilliant original score for First Man. Here's what I wrote about the score in my review of First Man:
"There are compositions on the score that ratcheted the tension up after a waltz-like theme had lulled you into a false sense of security during space exploration. [Hurwitz] handles the moon landing with a majestic and triumphant theme that is sure to stick in the minds of audiences as they leave the theater, but he also, time and time again, returns to a ghostlike or otherworldly theremin sound that is spellbinding. Composer Justin Hurwitz's score for First Man is a stunning masterwork that has me obsessed."
It's absolutely unbelievable to me that they didn't nominate his score. Those closest to me know that I've said this before: "As long as Hurwitz gets a nomination, I'll be happy." So, yeah, this was not the nomination morning I wanted it to be — to say the least. To make matters worse, AMPAS snubbed Hurwitz on his birthday.
– Jeffrey Rex Bertelsen.