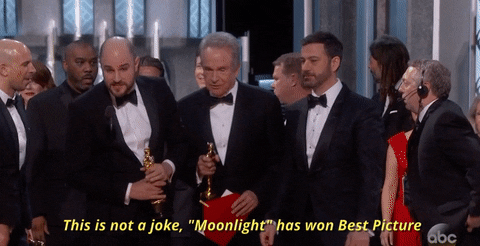 It was just going to be the same kind of reaction post that I do every year, but then something happened. Warren Beatty had been given the wrong envelope. Faye Dunaway thus announced the wrong Best Picture winner. This is insane. Unbelievable. Moonlight is the real Best Picture winner.
Someone is getting fired. Make no mistake, this isn't Beatty or Dunaway's fault. At the very least, that isn't what it looked like. Warren Beatty was clearly handed a Best Actress envelope. He was clearly confused, and he tried to show Dunaway that something was wrong. Dunaway just thought Beatty was toying with us, and then just blurted out the name without thinking.
If you haven't seen it yet, go find a clip. The craziest moment in the history of the Oscars. It just has to be. Something happened behind the scenes. It's unbelievable. And, frankly, it's heartbreaking. I know it might've been funny to some, but the La La Land producers on stage were Academy Award winners for a few moments, and the award was taken away from them. The greatest night of their lives just became a cruel joke to millions online.
It also just flat-out sucks that this is the way the Moonlight producers found out. A roller-coaster ride for both producer teams. It's a shame that no one is talking about La La Land getting the most wins, and it's even worse that people won't be talking about Moonlight the way they should. The Moonlight producers didn't get their moment the way they were supposed to. All everyone will be talking about is the way it was revealed. It overshadows everything.
The 89th Academy Awards was a great show. I actually think it's one of the best shows they've done in recent years. The Timberlake opening was terrific, Jimmy Kimmel was a really good host, Viola Davis' speech was outstanding, but the Best Picture disaster does make the entire show look really, really bad. That said, I do think Kimmel handled that moment really well, all things considered.
Let's not take anything away from the team behind La La Land, which did win a lot of awards (Chazelle became the youngest person to ever win Best Director). Also, let's not underestimate how important it is that a film like Moonlight gets to win the highest honor at the Oscars.
In a way, the 89th Academy Awards results resemble the 45th Academy Awards. At the 45th show, it was The Godfather and Cabaret that were up against each other. Cabaret, a musical, ended up winning the most awards that year (including Best Director and Best Actress), but The Godfather still ended up winning Best Picture. In this case, Moonlight is this year's The Godfather, and La La Land is, obviously, Cabaret.
"I'm going to be really proud to hand this to my friends from Moonlight." – Jordan Horowitz
Oh and one last thing, Jordan Horowitz – the La La Land producer that had to announce that Moonlight had, in fact, won – deserves a lot of praise. He handled that moment really well, even though he was clearly upset. It's a moment that is probably going to sit with him for a very long time. This was a painful moment for all of them. But he still managed to be very respectful about it.
What did you think of the show? Sound off in the comments.
– Jeffrey Rex